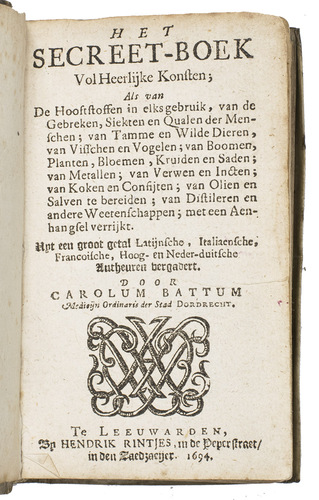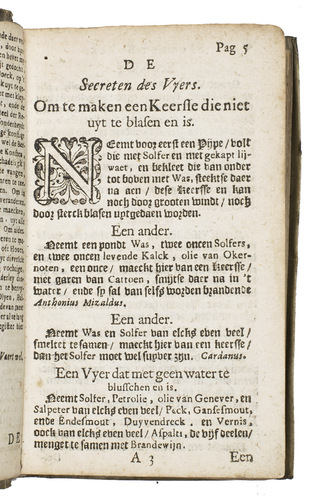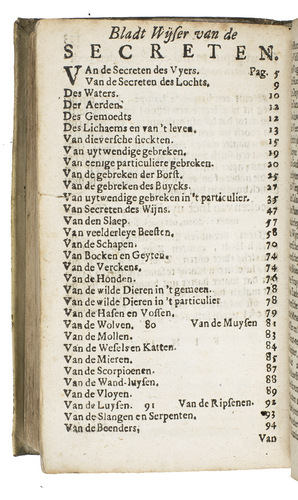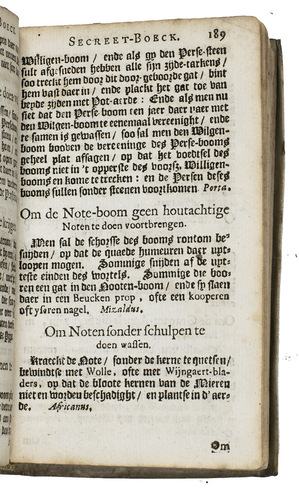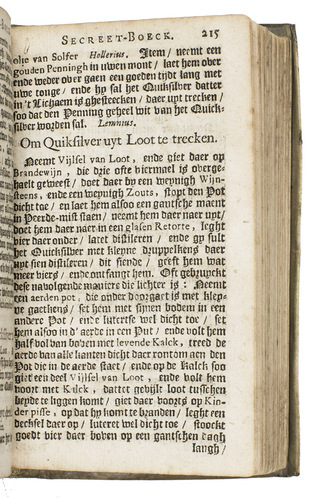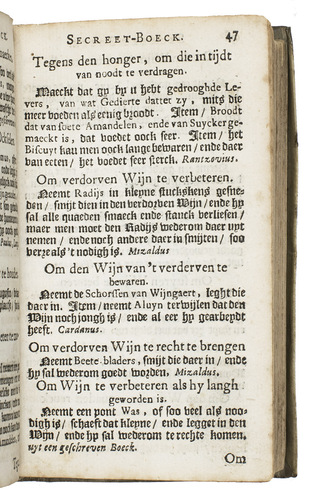 BATTUS, Carolus.
Het secreet-boek vol heerlijke konsten. Als van de hooftstoffen in elks gebruik, vande gebreken, siekten en qualen der menschen, van tamme en wilde dieren ..., bloemen, kruiden en saden ..., van olien en salven te bereiden, van distileren en andere weetenschappen; met een aenhangsel verrijkt, uyt een groot getal Latijnsche, Italiaansche, Francoische, Hoog- en Neder-duitsche autheuren vergadert.
Leeuwarden, Hendrik Rintjes, 1694. 12mo. With a woodcut vignet on title-page. Contemporary vellum with boards partly folded over the edge, with manuscript short-title on spine. 573, [3] pp.
€ 1,950
A popular Dutch book of secrets. This is the very rare last (11th?) edition, the first edition was printed in Dordrecht in 1609. We have located only two copies of the present edition in libraries, both in Amsterdam (VU & UB). The complier, physician Carolus Battus (or Baten or Batin), (1540-1617), was a Flemish refugee who from 1588 to 1601 was city physician in Dordrecht. He wrote three major works, (besides some smalle ones), that went through numerous editions in the seventeenth century Netherlands: a handbook for surgery, a handbook for medicine and the present book of secrets. As mentioned on the title-page, Battus compiled his work from various Latin, French, German and Dutch sources, mentioning the author at the end of each "secret". The book opens with secrets concerning fire, air, water and earth: how to make a candle that can't be blown out and how to heat water without fire. Next are secrets to cure or reduce human diseases and maladies, followed by numerous secrets concerning plants and animals: curing diseases, pest control, feeding and fatting up animals, etc. Also included are many household secrets: recipes for various kinds of ink, dye, soap, waters, balsams etc. and many recipes for preserves, cakes, cookies, wine, meat dishes and more. In total the book includes over 1500 secrets. In very good condition. Small wormhole throug part of the book in the lower margin. STCN (2 copies); Bibl. Med. Neerl. 57; Bibl. Gastronomica 314; Ferro 9k; Landwehr 8.
Related Subjects: