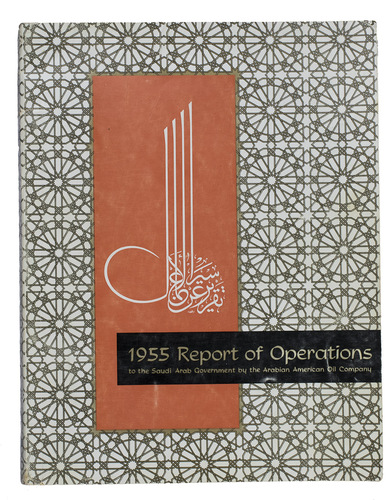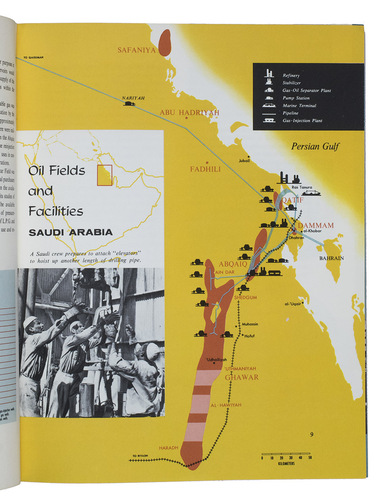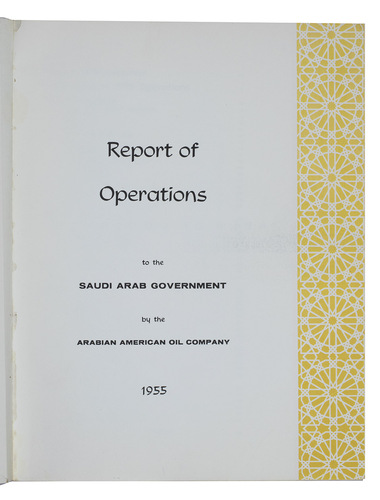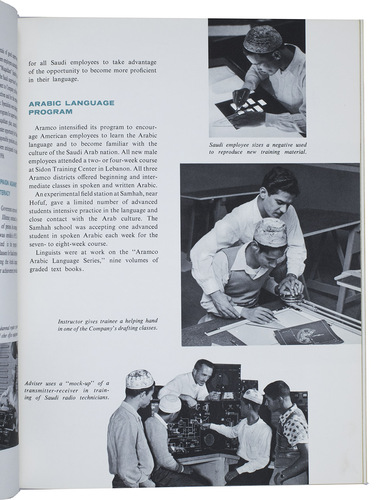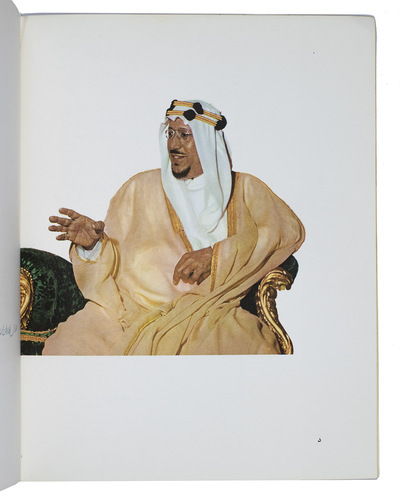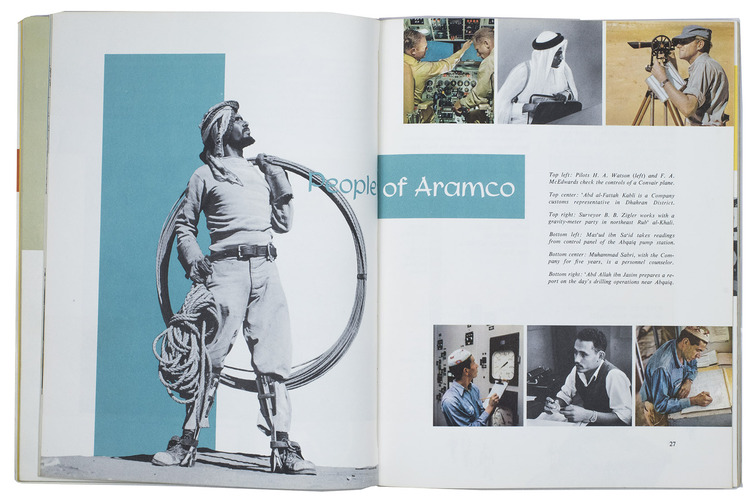 ARABIAN AMERICAN OIL COMPANY.
1955 Report of operations to the Saudi Arab government.
[Dhahran], Saudi Arabia, Arabian American Oil Company, 1956. 28 x 21.5 cm. With a portfolio of photographs, 8 pages in the middle of the work, with captions in both English and Arabic. Thoroughly and colourfully decorated with photographs, maps and other decorations in the text. The 56 pages of text appear twice in the present work as published, once in English on the left side of the portfolio and once in Arabic on the right side of the portfolio. Original publisher's decorated wrappers, with the title in English on the front wrapper and the title in Arabic on the back wrapper. VIII, 48, [8 - portfolio of photographs], 48, [8] pp.
€ 750
Abundantly illustrated report of operations of the Arabian American Oil Company (Aramco) for the year 1955. The bilingual (English and Arabic) report was, in the form of the present copy, issued yearly during the 1950's. The main subjects in the present report concern Iranian oil, exploration, capital investments, research, work performance, and the training of more Saudi Nationals for oil work.
Aramco was founded as a petroleum partnership between US firms and Saudi Arabia in 1933.its headquarters were initially based in the United States, but were moved to Dhahran, Saudi Arabia in 1952. This coincided with King Abdul Aziz ibn Saud's successful negotiations - supported by threats of nationalizing the Saudi oil facilities - in 1950 on behalf of the Saudi Arab Government regarding a larger share of the profits. Both the largest onshore and largest offshore oil fields in the world, respectively called Ghawar and Safaniya, are located in Saudi Arabia and are since their discoveries in the early 1950's in the hands of Aramco.
The wrappers are very slightly rubbed, with a small stain at the head of the wrapper with the Arabian title, otherwise internally fine, bright and clean. Overall in very good condition. WorldCat 2416997, 72883664, 503717635, 648155271 (recorded as a serial publication (1951-1961), number of copies of 1955 ed. unclear).
Related Subjects: