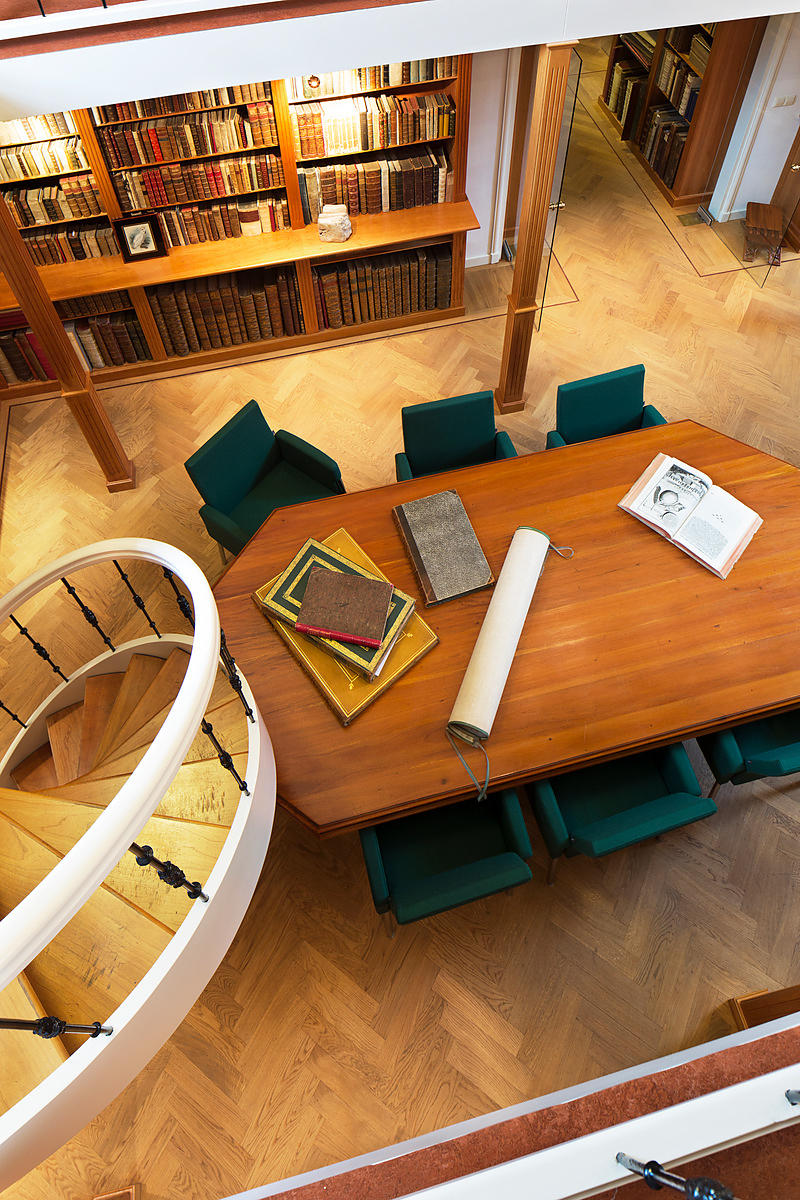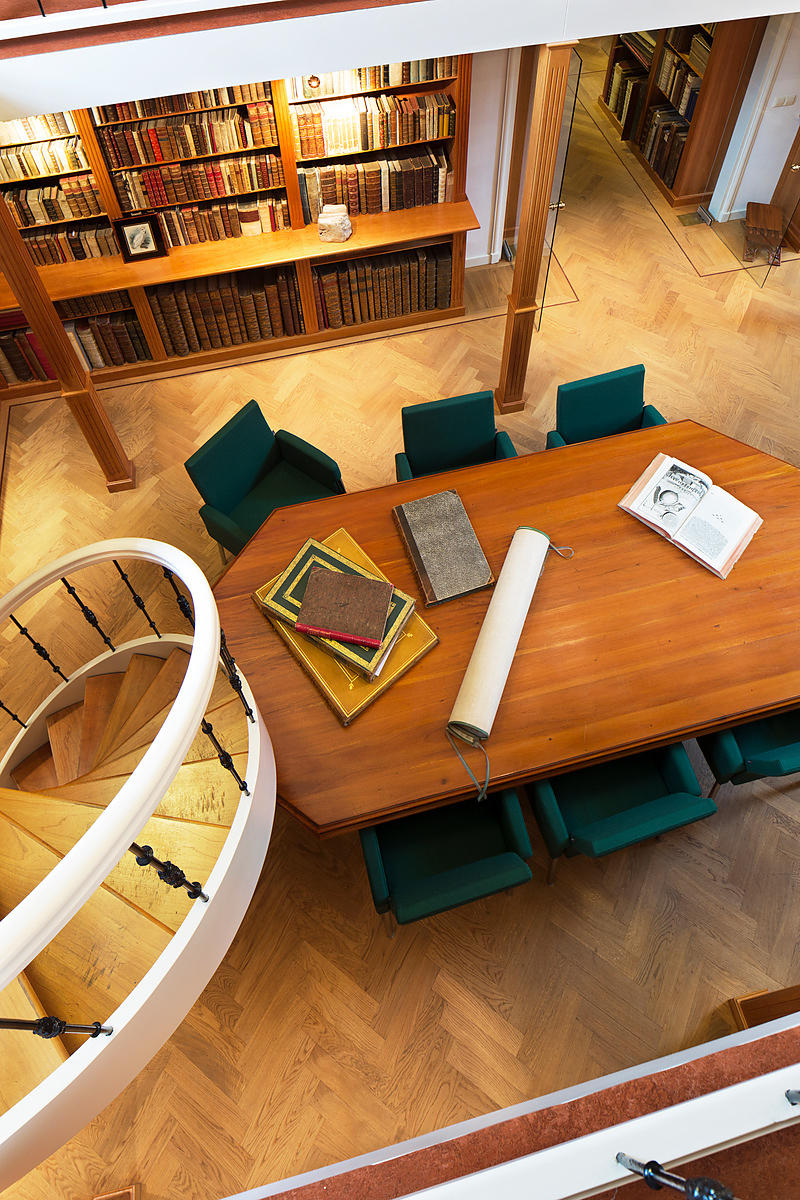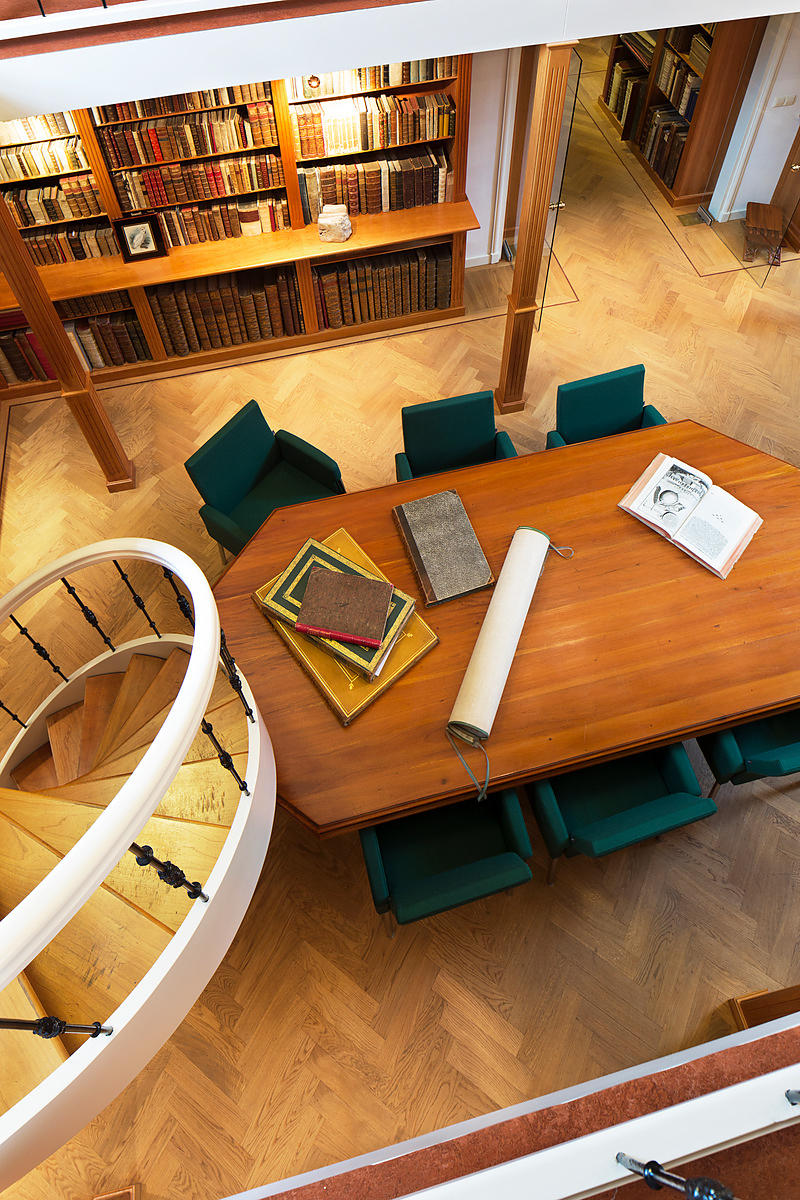 AMIRA, Georgius Michaelis (Jiris ibn Mikha'il ibn ').
[Grammatiqi suraya aw kaldayata ...]. Grammatica Syriaca, sive Chaldaica ...
Rome, Giacomo Luna (Yaqub ibn al-Hilal), Typographia Linguarum Externarum (successor to the Syriac materials of the Tipografia Medicea Orientale), 1596. 4to. Contemporary limp vellum, manuscript spine title. [44], 480 pp.
€ 12,500
First and only edition of the first extensive Syriac grammar, more than three and more than nine times as long as its only two predecessors: by Caninius representing the Syriac with Hebrew type (1554), and by Widmanstetter using serto Syriac type (1556). Syriac, a form of Aramaic used by several early Christian groups in the Middle East, is written with its own distinctive scripts. The Maronite priest Jiris ibn Mikhail ibn Amira wrote the present grammar (at the instigation of G.B. Raimondi, according to the preface), printed by the Maronite scholar Yaqub ibn al-Hilal (Giacomo Luna), who had worked at the Medicean printing office under Raimondi and was responsible for the Arabic and Syriac publications it published from 1590 to 1594. In 1595 he started printing and publishing under his own name, using the imprint noted above, but still using the serto Syriac type that Jean Cavaillon cut in 1590 for Raimondi, who introduced it in the publications of the Medicean printing office in 1592. Amaduzzi treats publications of the Medicean, Lunas and Stefano Paolinis printing offices as predecessors of the Propaganda Fides own office and therefore includes the present book in his catalogue of its work. The serto style of Syriac had largely replaced the estrangela as the principal book hand of the West Syriac regions in the eighth century, so most Syriac types followed that style. In the present book the table on pp. 2-3 showing Syriac alphabets also includes the estrangela and (for the first time) the East Syriac style sometimes called Nestorian, rarely seen in printing types. While the estrangela is clearly woodcut, one might have thought the East Syriac was printed from type, but since since the East Syriac shown in the table appears nowhere else in this book or in any other known book, it seems more likely to have been cut in wood. It may never-the-less have influenced the first Eastern Syriac type, introduced in the Propaganda Fides 1633 edition of Bellarminos Catechism. A supposed 1645 edition of Amiras grammar seems to be a ghost.
With 18th-century library stamps on title-page; bookplate of Flavio Camillo Borghese, Prince of Sulmona (1902-1980), on paste-down. Some browning and brown stains throughout, as often, and the first few quires somewhat loose. Adams A965; Amaduzzi, Catalogus librorum ... Propaganda Fide (1773), p. 43; BM STC Italian, p. 356 (under "Jiris"); Coakley, Typography of Syriac, pp. 43-45 & 266; Duverdier, "Impressions ..." 62, in: Exposition: Le livre et le Liban, p. 198; EDIT 16, CNCE 1541; Smitskamp, Philologia orientalis 184; Vater & Jülg, p. 388; Nestle 13; Zenker 1534 (p. 132).
Related Subjects: