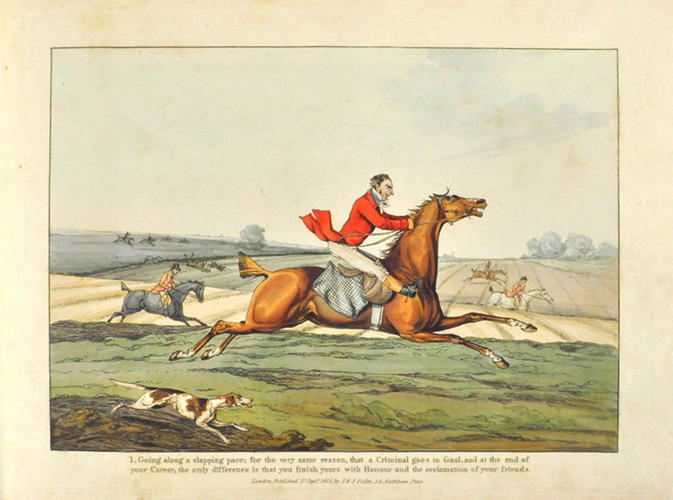 ALKEN, Henry.
Qualified horses and unqualified riders, or the reverse of sporting phrases taken from the work entitled Indispensable accomplishments.
London, S. & J. Fuller, 1815 [-1819]. Oblong folio (25 x 34.4 cm). With engraved title-page, 7 hand-coloured engraved plates by Alken, including plate 5 with a J. Whatman 1819 watermark. Later red hard-grained half morocco, spine and front board lettered in gold. Re-backed preserving the original spine.
€ 8,000
First edition, early issue. The first of Alken's works to have a title-page, "lacking from a great many copies" (Dixon). Signed Ben Tally Ho, the title explains with good humour that the plates are a reply to Robert Frankland's Indispensable accomplishments, a set of 6 Leicestershire hunting prints published in June 1811. Where Frankland blames the horse for any failures, Alken aims to show how a perfectly good horse can be handicapped by an "unqualified" or untrained rider.
Light browning to sky areas and plate margins, with the bookplate of Alfred N. Beadleston. Dixon 4 (noting 2 plates watermarked 1819); Mellon 3; Schwerdt I, 20 (1813 watermark); Siltzer 69 & 74; Tooley, Some English books with coloured plates 44 (dating it 1819).
Related Subjects: