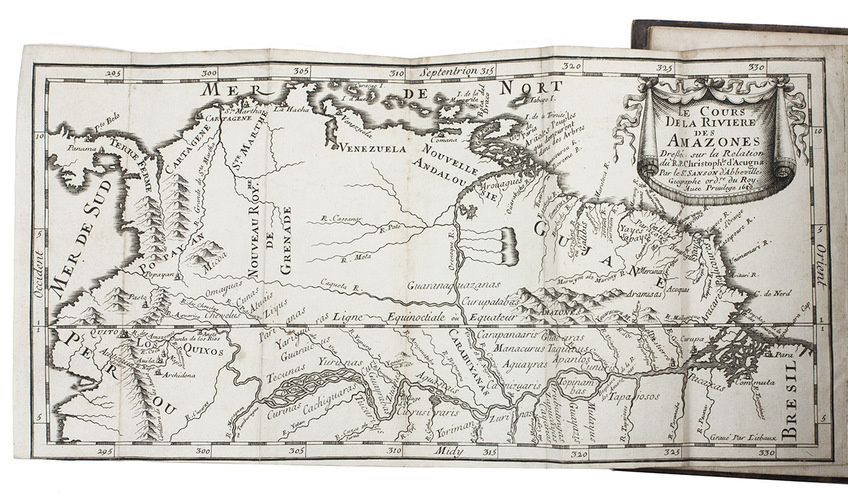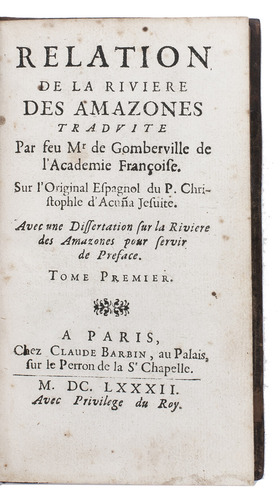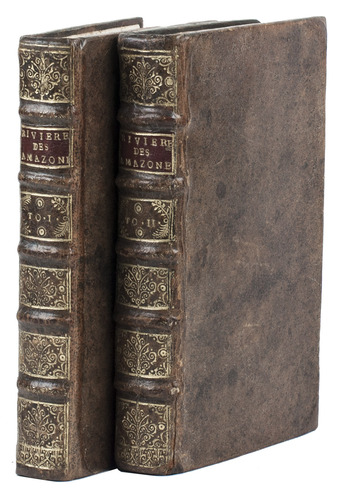 ACUÑA, Cristóbal Diatristán de.
Relation de la Riviere des Amazones traduite par feu Mr de Gomberville de l'Académie Françoise. Avec un dissertation sur la riviere des Amazones pour servir de preface.
Paris, Claude Barbin, 1682. 4 parts in 2 volumes. 12mo. With a folding engraved map of the Amazon River. Contemporary calf, gold-tooled spine. 199, [1; 4], 218; 238, [2 blank]; 206 pp.
€ 14,500
First edition in French of a travel account of the expedition by Pedro Texeira (d. 1641) and Cristóbal Diatristán de Acuña (1597 - ca. 1676), exploring the Amazon River from Quito to the east. They were the first Europeans to penetrate Indian land as deep as they did. Originally published in Spanish in 1641.
This French edition is the most complete edition to be found, with the Journal du voyage qu'ont fait les Peres Jean Grillet & François Bechamel de la Compagnie de Jesus, dans la Goyane, l'an 1674, following the fourth part and including the very rare map of the Amazon River, drawn by Sanson d'Abbeville. Borba de Moraes thought the map could only be found in the simultaneous issue with the publisher's address of the widow of Louis Billane.
With some water stains. Good copy of a travel account of the exploration of the Amazon River. Alden & Landis 682/2; Borba de Moraes, p. 12; Palau 2484; Sabin 151.
Related Subjects: