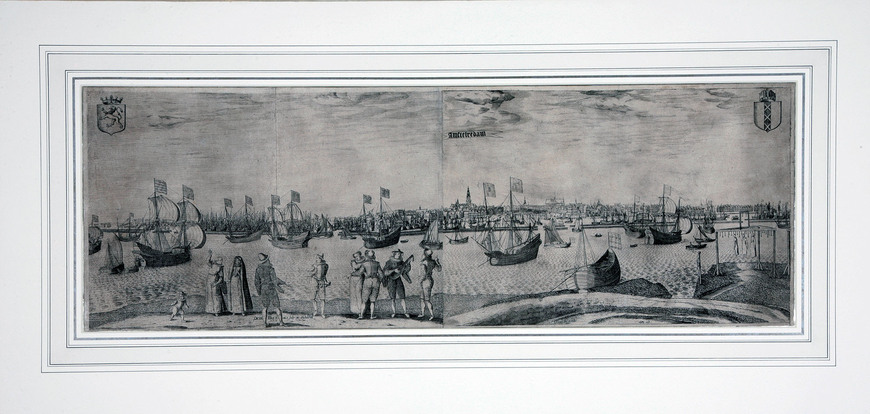 [VIEW - NETHERLANDS - AMSTERDAM]. BAST, Pieter.
Amstelredam.
[Antwerp], Pieter Bast, 1599. Large engraved panorama on 2 sheets (ca. 27 x 76 cm as assembled). Framed.
€ 67,500
Rare first state of a 16th-century view of Amsterdam as seen from the inlet known as the IJ made by Pieter Bast, a Dutch engraver from Antwerp best known for his city map of Amsterdam and this view. "In its amplitude and the sheer audacity of the presentation, this engraving is indisputably one of Bast's most significant creations. It is as much a portrait of the harbour of Amsterdam as of the city itself and underscores the unique importance of maritime trade as the principle source of the city's wealth and power". With its distinctive orientation he not only initiated the series of representations of Amsterdam as seen from the IJ, but also "established the standard for an entire genre of Dutch maritime painting" (Keyes). In 1611 a second state (edition) was published by Claesz Jansz. Visscher, who drastically altered the composition.
In very good condition. Hollstein I, p. 168, 8; Keyes, Pieter Bast 8 and p. 19.
Related Subjects: