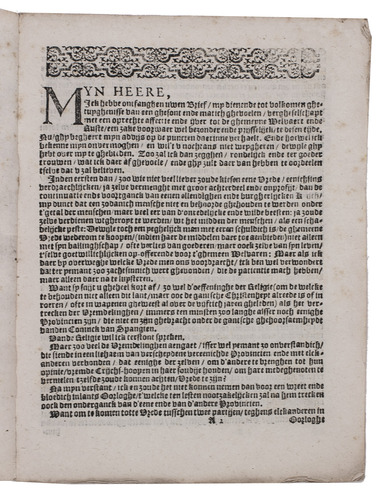 [PAMPHLET - DUTCH-SPANISH WAR].
Een goedt advijs, opt stuck vande vrede ende oorloghe in dese Nederlanden: by een edel-man ende oprecht lief-hebber syns vader-landts ende der ghemeyner ruste, aen eenen synen goeden vriendt, by forme van missive, overgheschreven. Na de copie.
[Delft], [Aelbrecht Hendricksz.], 1584. 4to. Woodcut interlaced capital 'o' on title, woodcut headpiece. (14, 2 blank) pp.
€ 395
Interesting pamphlet on the Dutch-Spanish war by an unknown Dutch author (sometimes erroniously atttributed to Marnix van St. Aldegonde) arguing against peace with Spain. According to the Typ. Bat. Aelbrecht Hendricksz. from Delft printed this pamphlet. It is translated from the French original (Discours d'un gentil-homme amateur de la patrie et du repos publicq...) which was printed in 1584, probably by Gilles vanden Rade from Antwerp (Knuttel 705).
Title with later manuscript annotations in ink and some marginal spotting, otherwise a good copy, including last blank. Knuttel 706; Belg. Typ. 1283; Tiele, Pamfletten, 284.
Related Subjects: