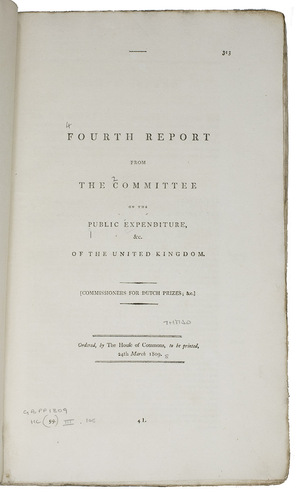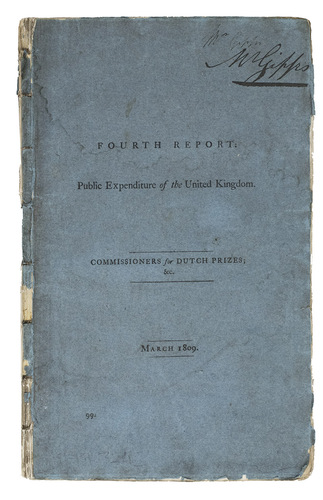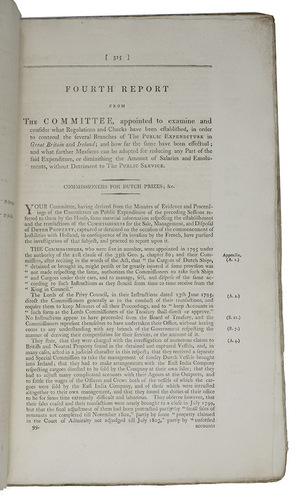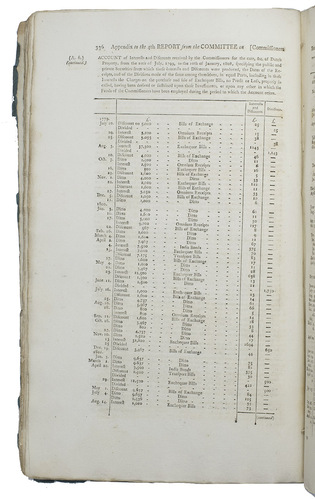 [HOUSE OF COMMONS].
Fourth report from the Committee on the Public Expenditure, &c. of the United Kingdom. Commissioners for Dutch prizes; &c.
[London], for the House of Commons, 24 March 1809. Folio. Original blue printed publisher's wrappers. pp. 313-386.
€ 650
The fourth report by the Committee of the Public expenditure of the House of Commons on the Commissioners for Dutch Prizes: prizes refers to naval prize money, usually arising in naval warfare. It was a monetary reward paid in accordance with the prize law for the capture of enemy ships or of cargoes belonging to an enemy in times of war. Claims for the award of prize money were usually heard in a Prize Court, which had to adjudicate the claim and condemn the prize before any distribution of cash or goods could be made to the captors. In the past the capturing force would commonly be allotted a share of the worth of the captured prize. Nations often granted letters of marque that would entitle private parties to capture enemy property, usually ships. Once the ship was secured on friendly territory, it would be made the subject of a prize case, an in rem proceeding in which the court determined the status of the condemned property and the manner in which it was to be disposed of.
In this case the Commissioners for the care, management and disposal of Dutch property were appointed, in 1795, by act of Parliament in consequence of the breaking out of hostilities with Holland after the invasion and seizure of that country by the French (p. 329), in the framework of the Continental Blockade (French: Blocus continental), or Continental System, a component of the foreign policy of Napoleon against the United Kingdom during the Napoleonic Wars.
The report starts (on p. 315) with the statement: The Committee, appointed to examine and consider what regulations and Checks have been established, in order to control the several branches of the Public Expenditure in Great Britain and Ireland; and how far the same have been effectual .... The text is on pp. 315-324, followed by an Appendix containing the official texts: Instructions, Establishment of the Commissioners, etc., General capitulation of ships and cargoes, Examinations of James Craufurd, Henry Bankes, Henry Thornton, and others, commissioners for the management of Dutch property in 1807- February 1809.
With the owner's inscription of "Mr. Gipses(?)" on the front wrapper. Spine injured, wrappers a little worn and frayed, but otherwise an untrimmed copy in good condition.
Related Subjects: