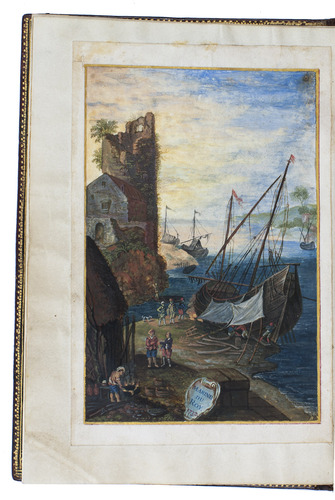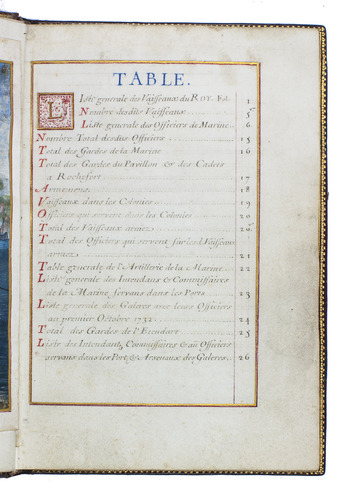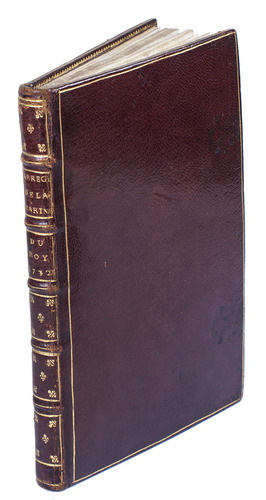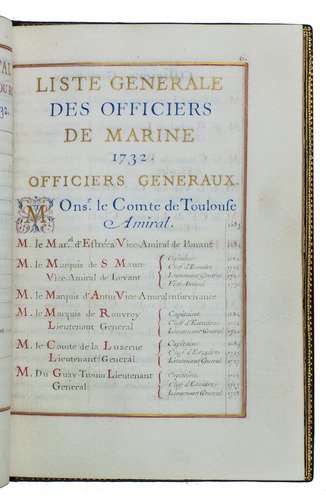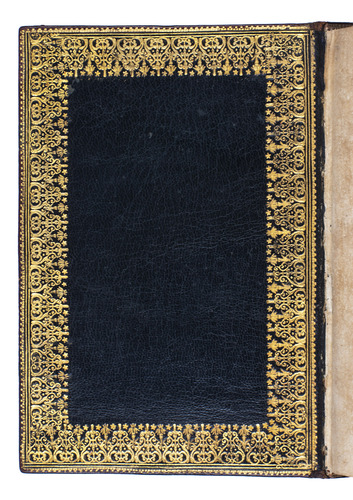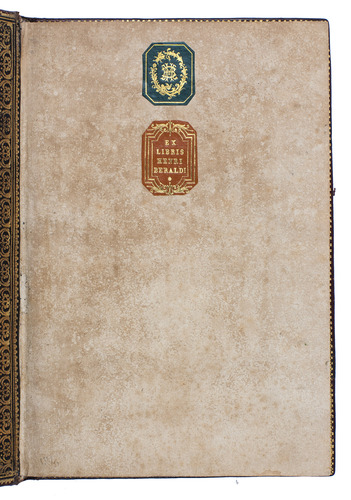 [FRENCH ROYAL NAVY].
[Binding title:] Abregé de la marine du Roy 1732.
[Paris?, 1732]. 13.5×19 cm. Manuscript in brown-black, red and blue ink on vellum, some of the lettering and borders gilt. With a beautiful frontispiece painting in coloured gouaches (14×9.5 cm) pasted on the page facing the opening of the text, showing a small warship at a shipyard in a small harbour being repaired by workmen. Contemporary red morocco, gold-tooled spine, gold-tooled fillets on boards and board edges, richly gold-tooled frame, gilt edges. Frontispiece plus [2], 26 ll., including 2 double and 1 larger folding.
€ 95,000
Splendid vellum manuscript on the condition and organisation of the French Royal Navy of King Louis XV in the year 1732, including maritime data on the French colonies in Canada, Louisiana and the West Indies. The manuscript is beautifully calligraphed in a formal roman and italic in brown-black, red and blue, sometimes with gold covering the ink, with 2 decorated initials in gold over red. The use of the high quality vellum, the fine gouache illustration, the lavishly executed calligraphy and the beautiful contemporary binding, indicate that the manuscript must have been produced for an important person, probably a head of the marine or an official at the court. The manuscript gives a complete survey of the size and organisation of the French navy of the Ancien Regime in 1732 and must have been top secret at the time!
From the library of the well-known art historian and book collector Henri Beraldi (1849-1931). The manuscript is generally in fine condition, with only an occasional minor spot or small stain. The binding is slightly worn at the hinges, head and foot of spine and on the raised bands, but is also generally fine. A remarkable and luxurious manuscript providing a wealth of information on the French Royal Navy in 1732. Bibliotheque Henri Beraldi II (Paris, 1934), 168; Sotheby's, London, Sale 16 & 17 december 1963, lot 223.
Related Subjects: