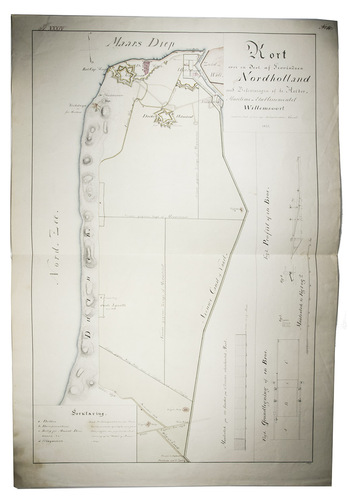 [FORTIFICATION PLAN - DEN HELDER - WILLEMSOORD]. KRAG, Rasmus.
Kort over en deel af provindsen Nordholland med befestningen af de Helder, maritime & etablissementet Willemsoort samt en deel af den nye Nordhollandske Canal.
[The Netherlands?], 1825. Double Elephant 1mo sheet (92 x 63 cm). With a pen and ink-drawn fortification plan (ca. 85 x 55 cm) of the Den Helder fortifications and the marine shipyard Willemsoord, coloured by a contemporary hand, with a manuscript title, scales and a key in Danish, written in a fine and legible 19th-century hand surrounding the plan. On Whatman wove paper. Folded. [1] sheet.
€ 1,800
Manuscript fortification plan, showing the Den Helder fortifications and the Willemsoord shipyard, built in the 19th century as commissioned by Napoleon Bonaparte, drawn by the Danish-Norwegian military engineer and quartermaster Rasmus Krag (1763-1838). The map shows the so-called Den Helder fortifications, also known as the "Stelling Den Helder", an impressive line of forts, defensive works and connecting dikes. This line had already been used during the Eighty Years' War against sea attacks. In 1811 Napoleon gave the order to expand it, wanting to make Den Helder the war harbour of The Netherlands because of its strategic location.
The plan is numbered in the upper left corner "Pl. XXXIV" in red ink and "Nr. 16" in the right upper corner in black ink, the latter struck through, and signed by "Krag" in the lower right corner below the plan. Some marginal soiling, stain in the lower left corner and some small spots on the plan, small tear in the upper left corner, but overall in good condition. A highly interesting and finely executed manuscript plan, important for Dutch maritime and military history.
Related Subjects: