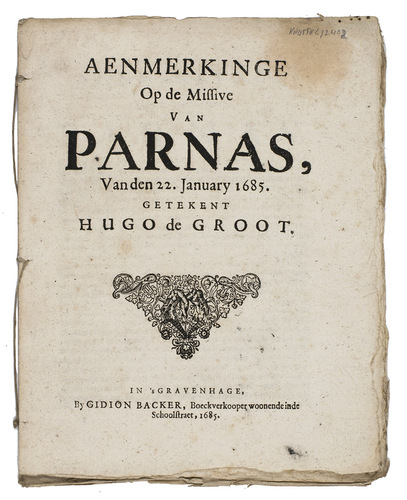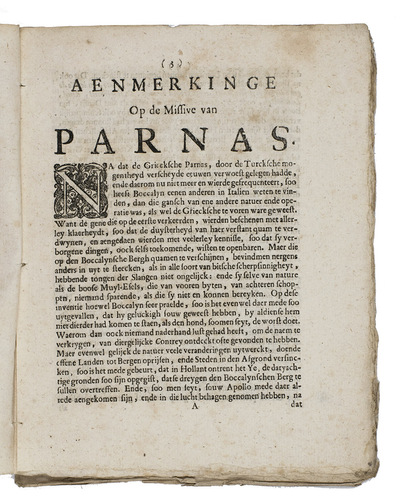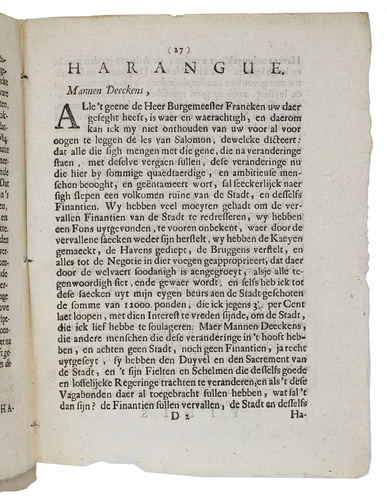 [DORDRECHT].
Aenmerkinge op de Missive van Parnas, vanden 22. January 1685. Getekent Hugo de Groot.
The Hague, Gidion Backer, 1685. 4to. With a woodcut title vignette and a woodcut intial. Disbound. 28 pp.
€ 475
Orangist reaction and critical commentary on the satirical pamphlet Missive van Parnas, geschreven door Hugo de Groot (Dordrecht?), no printer, (1685); see 262a), written in the same antique tune, on the procedures for the nominations and appointments in the last part of 1684 in Dordrecht of the Agten - the representatives of the Guilds - and the sheriff (schout) of Dordrecht Willem Stoop (1656-1701). Pp. 25-26: Toegift (Additon) on the meeting of Burgomaster Franken with the deans of the Guilds in October 1684, and, on pp. 27-28: Harangue to the deans.
Edges slightly frayed, a little browned and with some occasional spots, but overall in good condition. Knuttel, 12402; STCN 850919053; cf, Termeulen/Diermanse, Hugo Grotius, no. 218; Handvesten en Privilegien der Stad Dordrecht, III (Dordrecht, 1790), pp. 1901-1916.
Related Subjects: