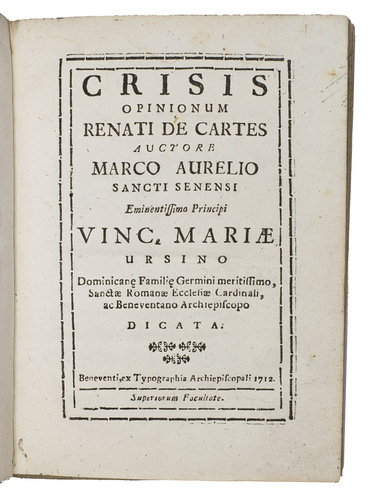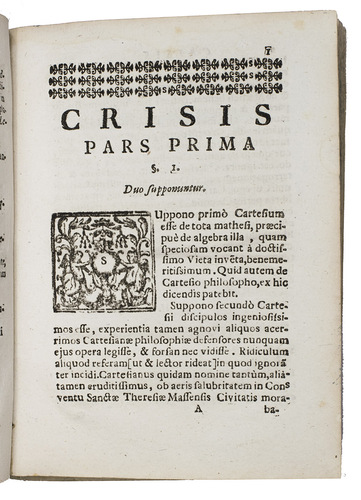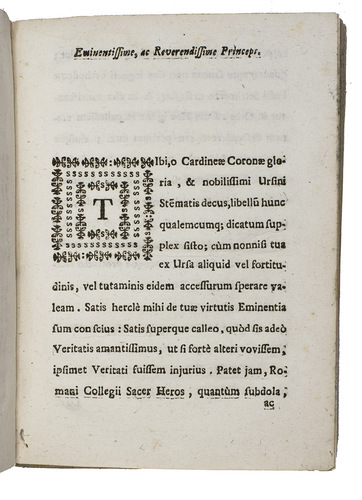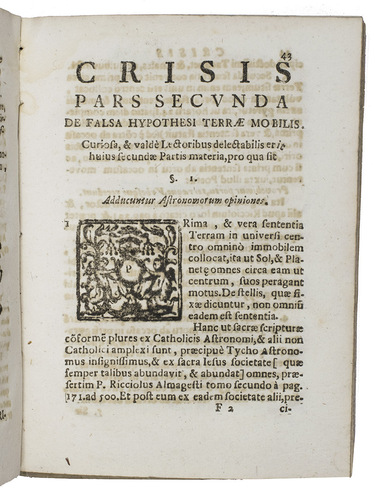 [DESCARTES]. Marcus Antonius SANCTI.
Crisis opinionum Renati De Cartes.
Benevento, Typographia Archiepiscopali, 1712. 4to. Title in a double-line frame built up from short rules, woodcut tailpiece and factotum (plus one repeat with a different letter), and a factotum and other decorations built up of typographical ornaments. Contemporary limp vellum with manuscript title on spine. [12], 63, [5] pp.
€ 3,950
First and only edition of a very rare essay on the philosophical and scientific theses of René Descartes by Marco Aurelio Santi from Siena, living in Benevento at the time. It collates [a]4 b2 A-H4 I2 = 40 ll. After the half-title and title-page (both with blank versos) follow the authors dedication to Cardinal Vincentio Maria Ursino, archbishop of Benevento (a3r-4v), "Ad lectorem" (b1r), two imprimaturs, dated 1 & 4 February 1712 respectively (b1v-2r), and the "Praeambula" (b2v). The text is divided into two parts, but they share a single series of page numbers (1-63) with a drop-title for the second part on F2 (p. 43), so they were never issued separately. The book ends with indices (H4v-I2r) and errata (I2v).
In good condition. WorldCat (5 copies).
Related Subjects: