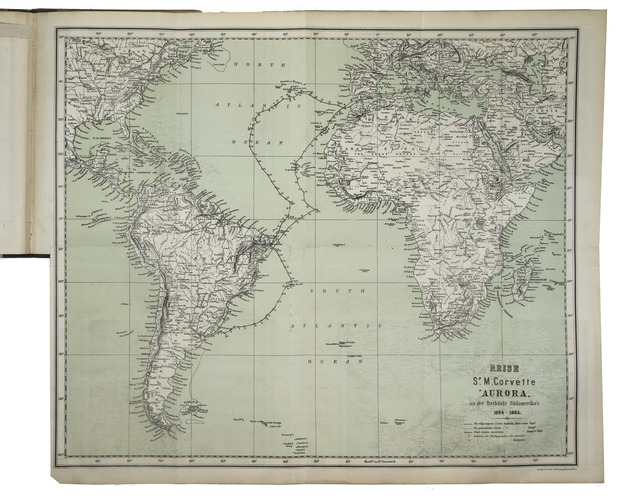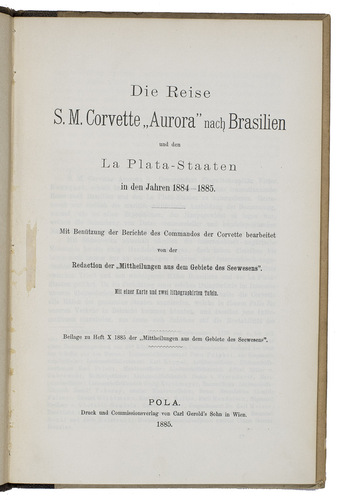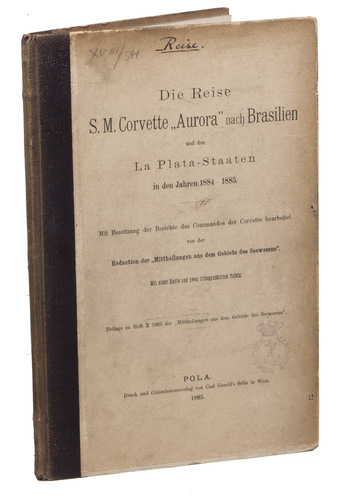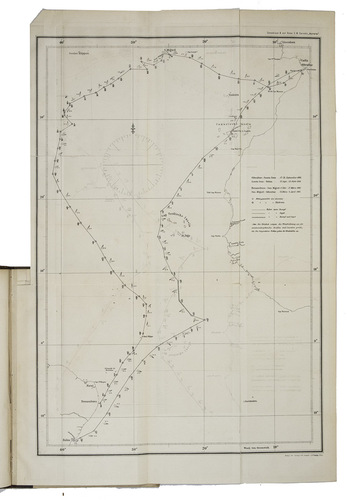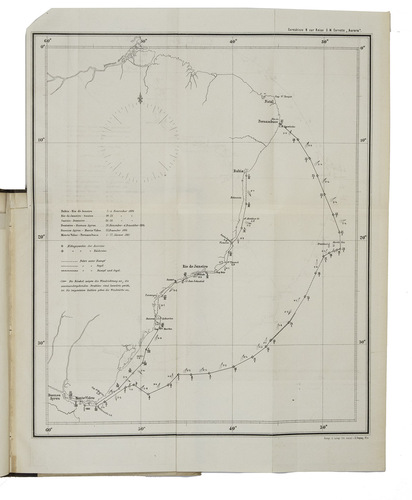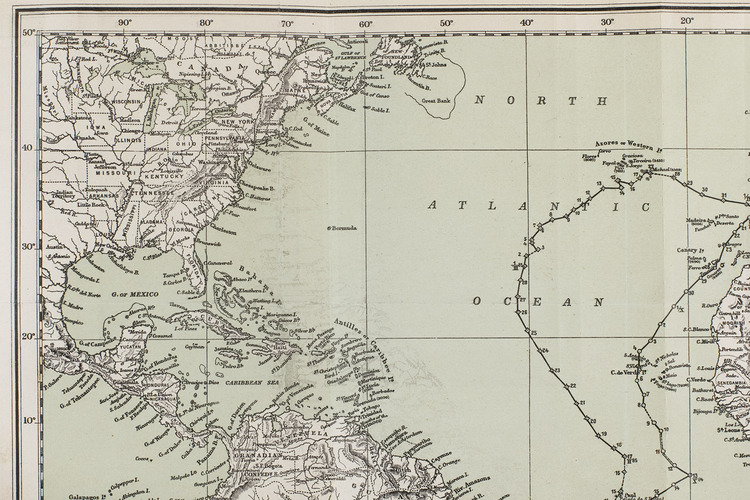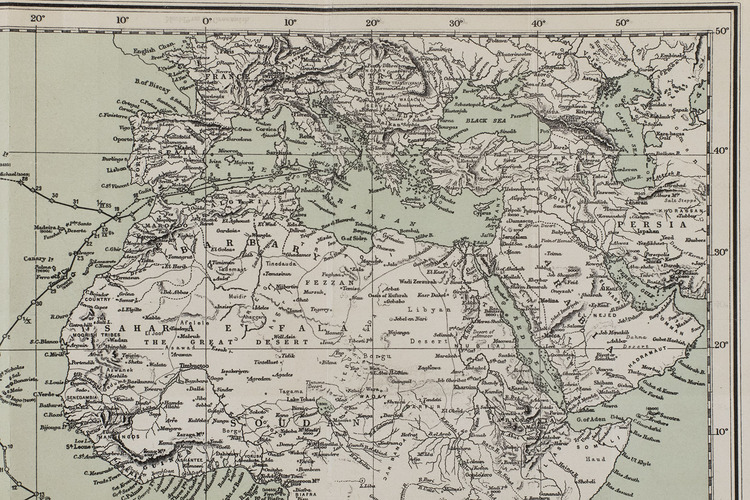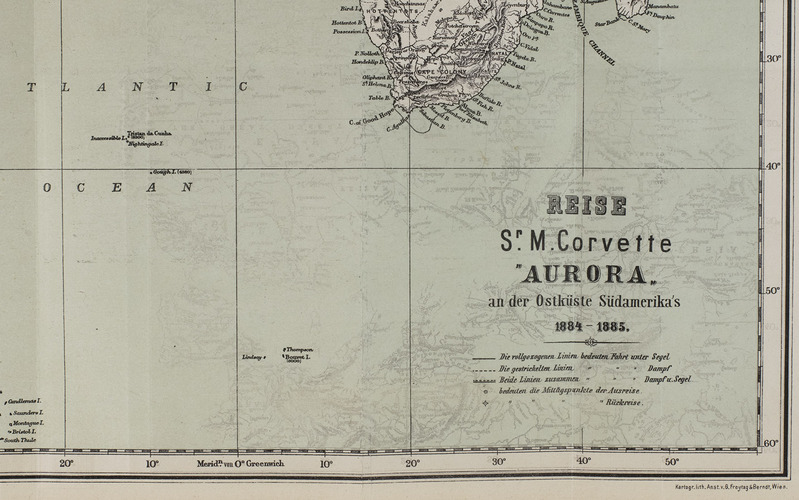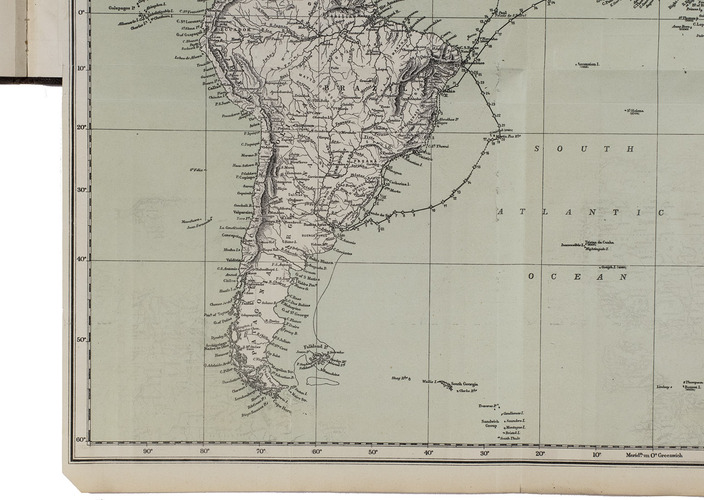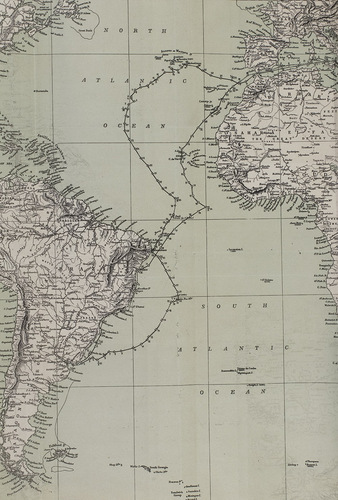 [CIRCUMNAVIGATION OF THE GLOBE by the CORVETTE AURORA]. [BOSQUET, Victor].
Die Reise S.M. Corvette "Aurora" nach Brasilienen und den La Plata-Staaten in den Jahren 1884-1885.
Vienna, Carl Gerold's Sohn, 1885. Large 8vo. With 3 lithographed folding maps (one coloured) showing the route of His Majesty's Ship Aurora along the east coast of South America. Contemporary half brown cloth with the original publisher's printed wrappers mounted on the boards. 56 pp.
€ 4,750
First edition of an account of the 8-month expedition to circumnavigate the globe in 1884-1885, by His Majesty's Ship Aurora, a vessel launched by the Kaiserliche und Königliche Kriegsmarine (Austro-Hungarian Imperial and Royal Navy) to Brazil and the Río de la Plata basin. This voyage, commanded by Victor Bosquet, was primarily intended as practical training for naval cadets, but also helped to facilitate the trade between South America and the Austro-Hungarian Empire as well as political and economic interests.
On 27 August 1884, the corvette Aurora sailed from Pola to Gibraltar and further via St. Cruz on Tenerife to Bahia. After a short stay of about ten days, the Aurora sailed to Rio de Janeiro, also passing some other places, to Buenos Aires and from there via Montevideo back to Pernambuco. Thereafter, the Aurora sailed back to Pola via São Miguel, Ponta Delgada and Gibraltar, reaching Pola's central port on 25 April 1885.
The present account, drawing on the reports of the commanders of the Aurora, paints a detailed picture of its voyage, including some hydrographic, navigational and meteorological observations. These are also included in the more descriptive navigational part of the voyage. Moreover, it includes some information on the places where they anchored, including Bahia, Pernambuco, Rio de Janeiro, and many more.
Die Reis S.M. Corvette "Aurora" was published separately and as an appendix to volume 10 of the hydrographical journal of the Austrian-Hungarian Navy, Mittheilungen aus dem Gebiete des Seewesens. Altogether a highly interesting official record of the Austro-Hungarian circumnavigation of the globe via Brazil and the Río de la Plata basin, and a great source of information for the Austro-Hungarian navys (trading) expeditions to this region.
With the library stamp of the Royal Danish maritime library ("Marinens Bibliothek") on the front wrapper, a stamped subject indication on the front paste-down ("Sørejser. b. 1884-1886" ("Sea voyages ...")) and an inscription in ink ("Reise") on the front wrapper. Wrappers on the boards a little browned, spine a little discoloured, with some tears on the folds of the first lithographed map (not affecting the image), but otherwise in very good condition. Borba de Moraes, p. 707; WorldCat 743212274 & 780852276 (3 copies).
Related Subjects: