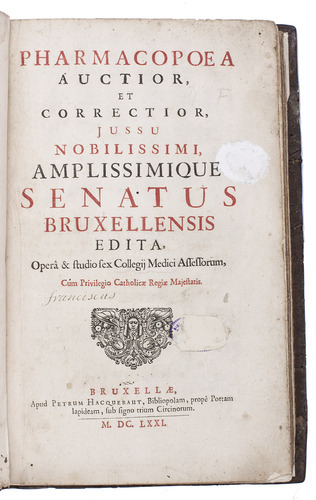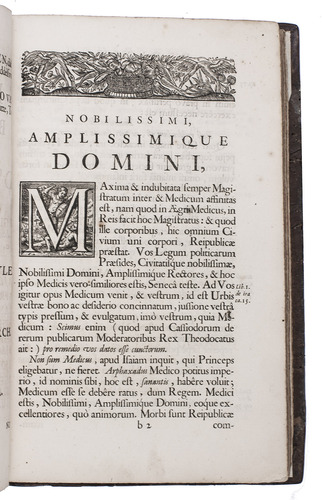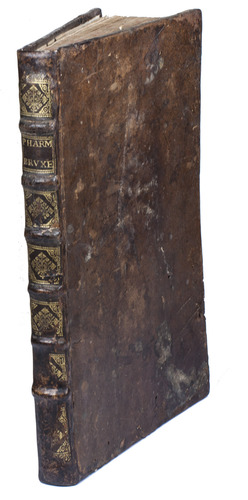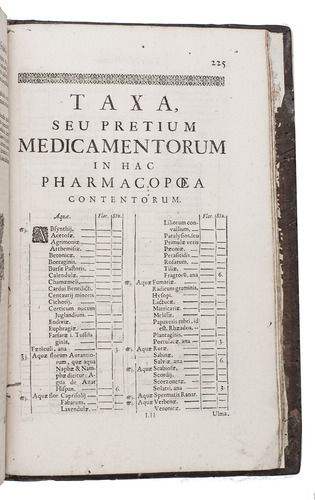 [BRUSSELS - PHARMACOPOEIA]. [JOCQUET, Joannes, and others].
Pharmacopoea auctior, et correctior, jussu nobilissimi, amplissimique senatus Bruxellensis edita ...
Including: Taxa, seu pretium medicamentorum in hac pharmacopoea contentorum.
Brussels, Pierre Hacquebaud, 1671. Folio. Contemporary calf; rebacked with part of the original gold-tooled backstrip laid down. [1], [1 blank], [8], 237, [15] pp.
€ 395
Second, revised and enlarged edition of the Brussels pharmacopoeia. Brussels had begun discussing plans to establish a Collegium Medicum ca. 1605, but failed to do so. A 1636 plague, however, incited city magistrates to compile a pharmacopoeia and they commissioned four leading city physicians (Joannes Jocquet, Paulus de Hullegarde, Ludovicus Fabri and Joannes De Lau, not mentioned on the title-page, but acknowledged by name in the preliminaries) to compile the present Brussels pharmacopoeia, which appeared in 1641. No apothecaries were officially consulted in the compilation of the Brussels pharmacopoeia, reflecting the growing status of physicians and declining status of apothecaries. Amsterdam had produced the first official pharmacopoeia in the Low Countries in 1636, based in part on Valerius, but the Brussels physicians chose to take the 1638 Paris Codex medicamentarius Parisiensis as their principal model.
With an ownership inscription by "Franciscus", dated 1716, on the paste-down and title-page and a another inscription below the colophon (possibly in a different hand) noting that the book was a gift from Louis Riqueur (ca. 1655-1737), apothecary of King Philip V of Spain. Binding damaged at the sides and heavily restored at the spine and extremities. With a few spots and many wormholes throughout; lacking the engraved title-page; a fair copy. Anet (1 copy); Daems & Vandewiele, pp. 71-72 (5 copies plus 1 manuscript version); Krivatsy 8908; STCV (2 copies); Wellcome IV, p. 357.
Related Subjects: