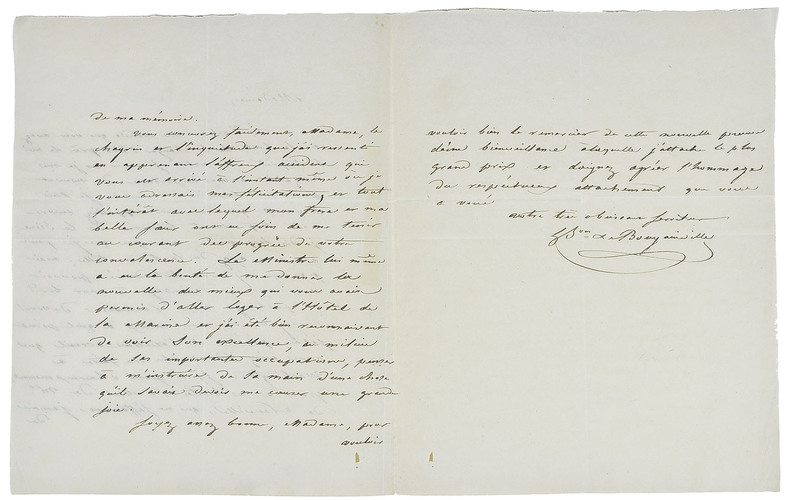 [AUTOGRAPH]. BOUGAINVILLE, Hyacinthe-Yves-Philippe Potentien, Baron de.
[Autograph letter, signed, to Baroness Hyde de Neuville (Anne Marguerite Henriette de Marigny Hyde de Neuville)].
[Brest?, ca. 1820/22]. Folded leaf (20.6 x 16.5 cm). In French. 2 1/2 pp. text. 2 1/2 pp. text.
€ 1,250
Interesting letter from the famous French explorer Hyacinthe de Bougainville to Baroness Hyde de Neuville (died 1849), the wife of Baron Jean-Guillaume Hyde de Neuville (1776 - 1857), French aristocrat, diplomat, and politician.
In this letter Bougainville refers to an earlier visit with the Baroness on his vessel La Seine (which he commanded from 1819-21) and a meeting he had with her and her husband in Washington. He also asks whether she can arrange a new meeting between him and her husband.
Small hole in margin not affecting text. Fine letter by the famous circumnavigator Hyacinthe de Bougainvile. On Bougainville: Howgego,1800-1850, B50; on the De Neuvilles: New Jersey Women's History.
Related Subjects: