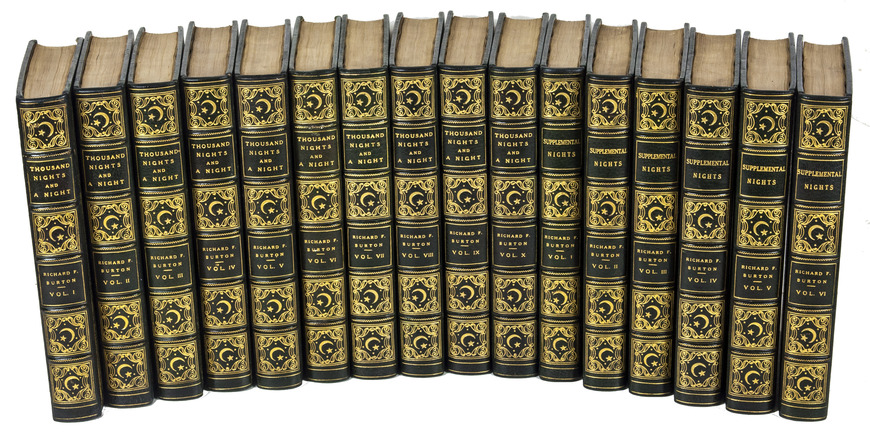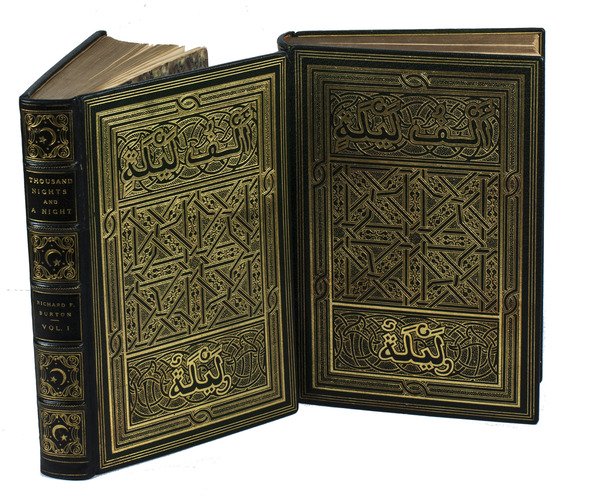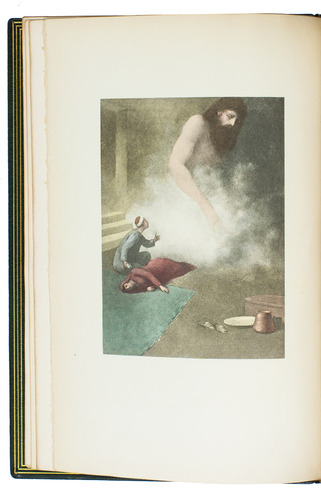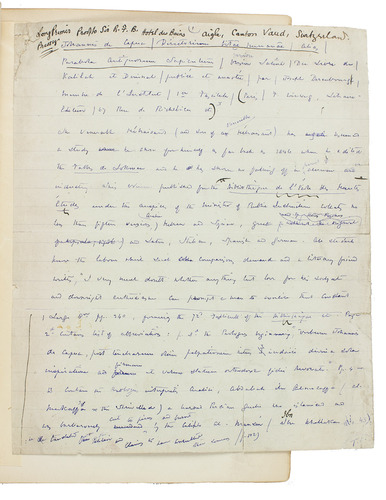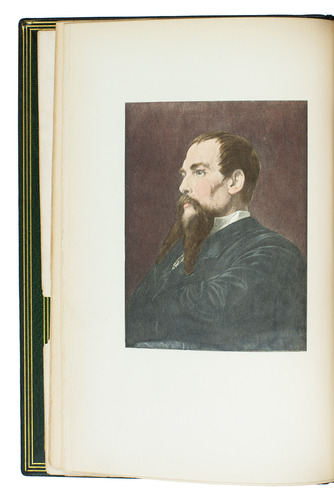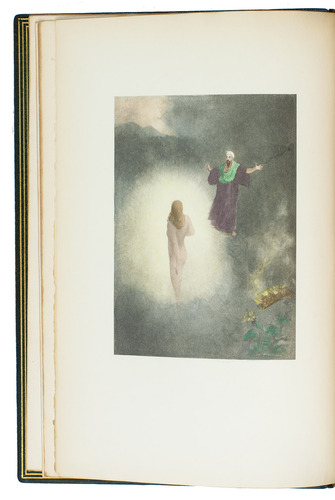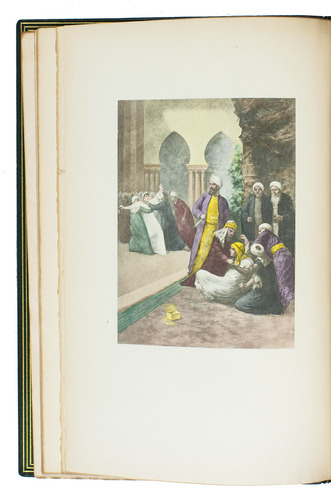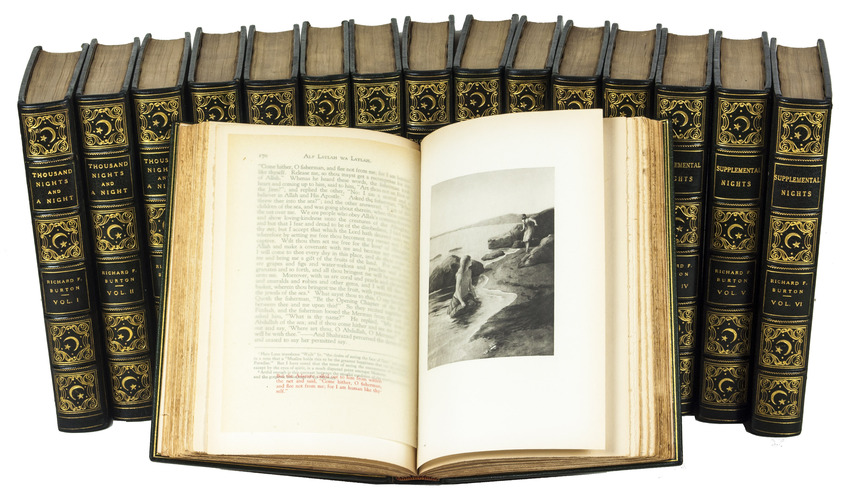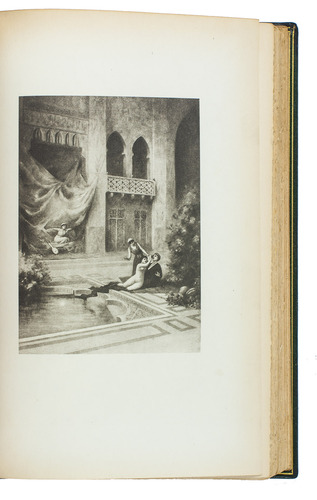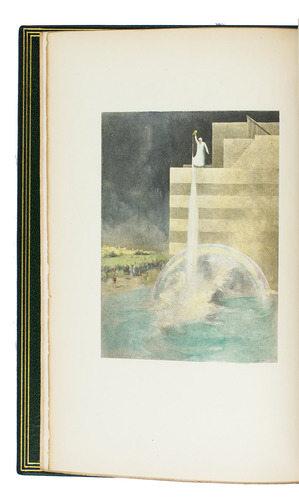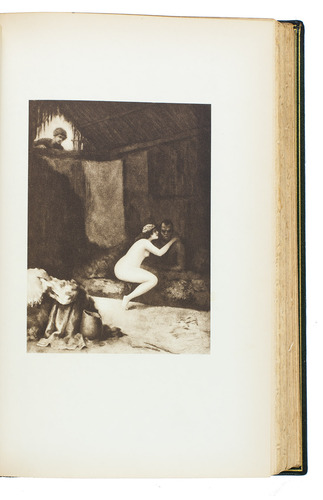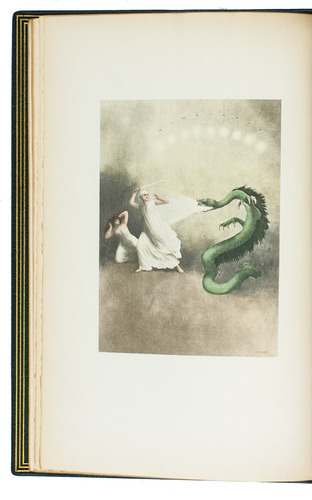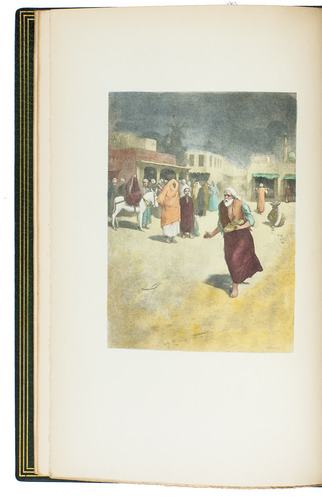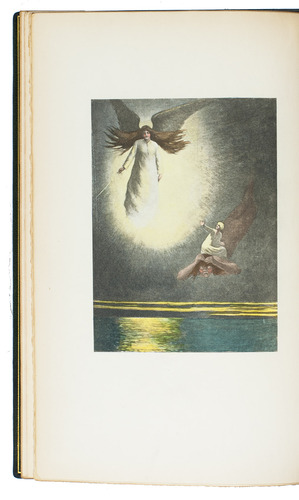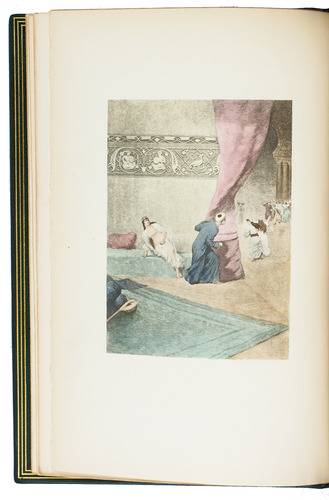 [ARABIAN NIGHTS]. BURTON, Richard F.
The book of the thousand nights and a night[:] a plain and literal translation of the Arabian nights entertainments.
With:
(2) BURTON, Richard F. Supplemental nights.
(3) BURTON, Richard F. [Autograph manuscript book review of an 1881 Panchatantra edition].
(Colophons: U.S.A. [Boston, MA?]), The Burton Club, [ca. 1940]. 16 volumes (incl. 6 supplements). 8vo. With an original manuscript leaf written by Burton (with the manuscript heading: "Proof to Sir R.F.B. Hotel des Bains, Aigle, Canton Vaud, Switzerland" and a note "Long Primer Pressig.") and each volume with a different frontispiece in two states (coloured and uncoloured). Contemporary richly gold-blocked green morocco, boards with Arabic script in gold, gold-tooled turn-ins.
€ 25,000
The so-called "manuscript edition" of Richard Burton's celebrated translation of Alf Laylah Wa Laylah, commonly known in English as the Arabian nights. These Arabic tales, cherished in Europe since the early 18th century, are often erotic in content, and in Burton's unexpurgated translation they outraged Victorian England. Burton included numerous footnotes and a scholarly apparatus, offering a vivid picture of Arabian life (including sexual customs), which set his translation apart from earlier English renderings.
The present edition (limited to 99 sets, the present being copy no. 49) includes a manuscript leaf from a text by Burton. In the present copy this is a book review by Burton, of a French translation of Johannis de Capua's Latin translation of a Hebrew translation of the Panchatantra, a Sanskrit frame story written several centuries before the Arabian nights. The notes at the head show that it was used as printers copy.
The title-page of volume one uses the correct main title, The book of the thousand nights and a night, but confusingly mixes it with part of the subtitle of the Supplemental nights: "to the book of the thousand one nights with notes anthropological and explanatory". To add further confusion it says "volume three", though the content is that of volume one. The volume number is clearly a printer's error, apparently corrected early in the press run.
Some minor browning to the endpapers, those of the first volume partly detached and with a small pieces torn off, the binding has some very minor wear to the hinges, and a few headbands have been carefully repaired. A fine set. Scheherazade's web: the 1001 nights & comparative literature, J. Rosss bibliography 10 & 11; cf. Penzer, pp. 126-132 (other Burton club editions).
Related Subjects: