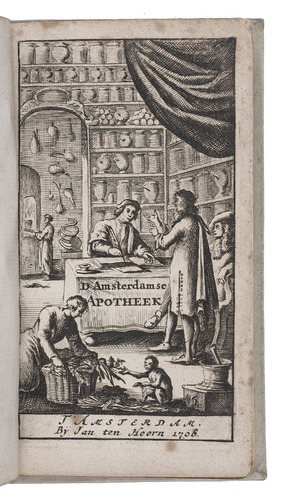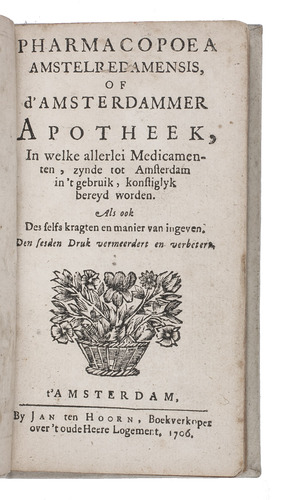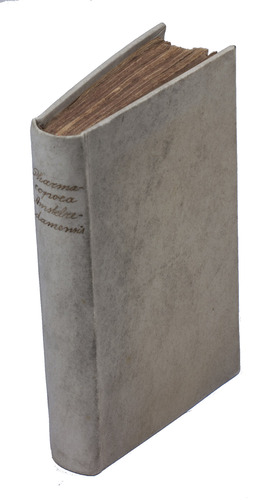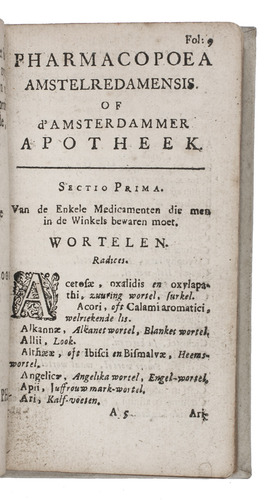 [AMSTERDAM - PHARMACOPOEIA]. [TULP, Nicolaes and Pieter BERNAGIE (translator)].
Pharmacopoea Amstelredamensis, of d'Amsterdammer apotheek, in welke allerlei medicamenten, zynde tot Amsterdam in 't gebruik, konstiglyk bereyd worden. Als ook des selfs kragten en manier van ingeven. Des sesden druk vermeerdert en verbetert.
Amsterdam, Jan ten Hoorn, 1706. 12mo. With an engraved title-page by Jan Luyken, showing the interior of an apothecary and a woodcut vignette of a vase on the title-page. Vellum (ca. 1900?). 202, [14] pp.
€ 2,250
Very rare sixth edition of a Dutch translation of the 1636 Amsterdam Pharmacopoea. Unlike the original Latin edition, the Dutch translation not only lists ingredients, but also provides recipes to prepare the medicines. The numbers for quantities, as the publisher notes in the foreword, are spelled out to avoid any (potentially fatal) problems arising from typesetting errors.
The original Latin Pharmacopoea Amstelredamensis, the first Dutch pharmacopoeia, with recipes for nearly 200 medicines, was compiled anonymously by Nicolaes Tulp (1593-1674) by order of the city of Amsterdam, to serve as an official legal standard for the correct preparation of numerous medicines. Several cities in the southern Low Countries and Germany, and even London, had produced pharmacopoeias before any Dutch city and Tulp based his on those published in Augsburg, Cologne and London.With a few contemporary annotations in the margins and the bookplate and stamp of Rimerius Gerardus Posthumus on the flyleaves. Some browning and spotting, still a sound and complete copy of a rare book. Daems & Vandewiele, p. 59 (1 copy); Klaversma & Hannema 1178; STCN (same copy as Daems, lacking frontispiece); WorldCat (2 copies, including that in Daems).
Related Subjects: