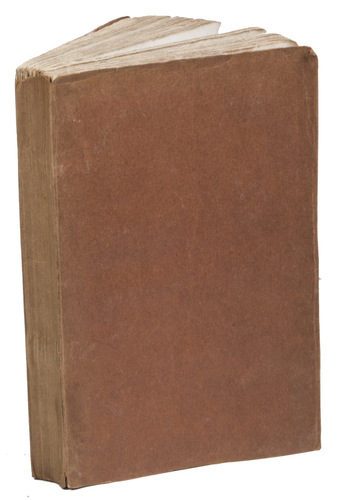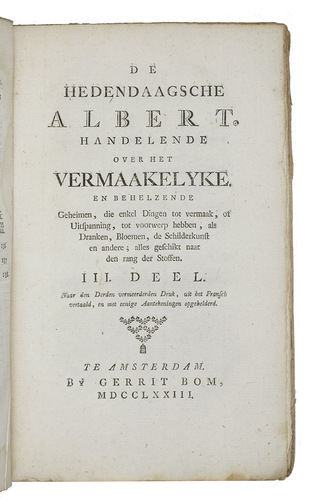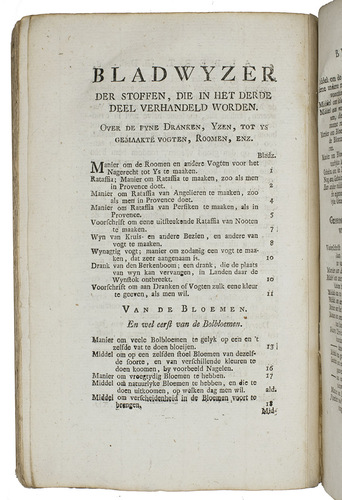 [ALLETZ, Pons-Augustin].
De hedendaagsche Albert, of nieuwe beproefde en geoorloofde geheimen...
Amsterdam, Gerrit Bom, 1773. 3 parts in 1 volume. Large 8vo. Later pink paper wrappers. VII, 108, [4]; [2], 142, [4]; [2], 64, [6] pp.
€ 1,250
Dutch translation of one of the compilations, reference books and manuals by Pons-Augustin Alletz (1703-1785), a French agronomist. His most famous work, L'agronome, ou dictionnaire portatif du cultivateur was first published in 1760 and was frequently republished until the 19th century; it was considered one of the best manuals of country living during its time. Much of it can be found in the second part of the present work, which was published in 1768 under the title L'Albert moderne; ou nouveaux secrets éprouvés, et licités, recueillis d'apres les decouvertes les plus recentes. Les uns ayant pour objet de remedier a un grand nombre d'accidens qui interessent la sante: Les autres, quantitite de choses utiles a scavoir pour les differens besoins de la vie.
De hedendaagsche Albert is a popular manual of practical medicine and pharmacopoeia, including many quack remedies and recipes, ranging from recipes for insect bites, cramps, burns, worms, etc. till fevers, falling illness and madness (part 1); practical life, beauty and cooking, esp. advises and recipes for life in the countryside: poultry, wine, cattle horses, hunting, bee-keeping, etc. (part 2); and the last (part 3) on pastimes and amusements: the ratafias, painting secrets, flowers, etc..
The title refers to an old medieval compilation, in two parts: (1) by Pseudo Albertus Magnus - The "Secrets" of Albert the Great - , and (2) the "Little Albert".
Despite the information given by the printer Gerrit Bom that he publishes this new edition because there are already more than ten (bad) pirated editions, our copy is very rare.
Including various stock-lists of Gerrit Bom's publishing house at the end of each part. Wrappers slightly discoloured, some staining on the paste-downs, slightly frayed along the edges, otherwise in good condition. BMN I, p. 152; not in Muller, Scheepers, Waller, Buisman, etc.
Related Subjects: